Rotorswing 140 Multi ZeroSpeed
Het RotorSwing 140 Multi-model is ons meest complete roldempingssysteem ontworpen met de gepatenteerde ZeroSpeed-functie. Vergeleken met andere systemen is de ZeroSpeed-functie zeer efficiënt voor anker en snelheden tot 3 knopen.
Deze RotorSwing 140 Multi-stabilisator is een multifunctioneel roldempingssysteem dat extreem stil en ook adaptief is tijdens het bestrijden van bijna elk type beweging en oceaan. Een enorm voordeel is de gepatenteerde Adaptive Rake™ met de functie voor positioneringscontrole, of het schip nu AtZeroSpeed™, AtCruiseSpeed™ of AtFullSpeed™ is, het systeem behoudt geweldige prestaties, ongeacht de snelheid van het vaartuig.
Veiligheid eerst; onze roldempingssystemen trekken automatisch in bij achteruit of neutraal.
100% elektrisch
Hoge prestaties bij stilstand
Intrekbaar (past op elke romp)
Geen stuureffect
Magnus Effect-principe
Stille werking
Weinig onderhoud
Verhoogde brandstofefficiëntie
Meer comfort, veiligheid & Ontspanning
Compacte en eenvoudige installatie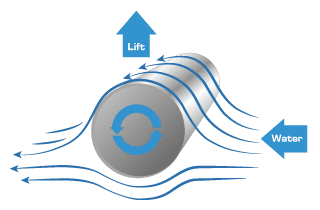 Verzamelen van vaartuiggegevens
Rotorswing berekent een aanbevolen systeemspecificatie op basis van de vaartuiggegevens die in dit formulier worden verstrekt.
Brochures
Hieronder vindt u de digitale versies van onze nieuwste brochures en technische fiches. Klik op de knop om de digitale versie van een bestand te bekijken.