Rotorswing 140 Underway
De RotorSwing Underway-stabilisator zorgt voor roldemping tijdens het varen vanaf 3 knopen. Deze stabilisator is de kosteneffectieve oplossing, voornamelijk voor verplaatsingsschepen die tijdens het varen een krachtige slingerdemping nodig hebben.
De gepatenteerde RAKE-functie, die de rotors naar een vooraf gedefinieerde kleinere hoek naar het achterdek brengt, kan worden ingeschakeld tijdens het varen met 10-16 knopen. Deze gepatenteerde RAKE-functie verlaagt de luchtweerstand aanzienlijk zonder noemenswaardig verlies van roldemping!
De RotorSwing Underway is het kosteneffectieve antwoord voor verplaatsingsjachten tot 35 meter (115 voet) die tot 16 knopen varen.
Deze RotorSwing 140 Underway-stabilisator is een multifunctioneel roldempingssysteem dat extreem stil en ook adaptief is tijdens het bestrijden van bijna elk type beweging en oceaan. Een enorm voordeel is de gepatenteerde Adaptive Rake™ met de functie voor positioneringscontrole, of het schip nu AtCruiseSpeed™ of AtFullSpeed™ is, het systeem behoudt geweldige prestaties, ongeacht de snelheid van het vaartuig.
Veiligheid eerst; onze roldempingssystemen trekken automatisch in bij achteruit of neutraal.
100% elektrisch
Hoge prestaties bij stilstand
Intrekbaar (past op elke romp)
Geen stuureffect
Magnus Effect-principe
Stille werking
Weinig onderhoud
Verhoogde brandstofefficiëntie
Meer comfort, veiligheid & Ontspanning
Compacte en eenvoudige installatie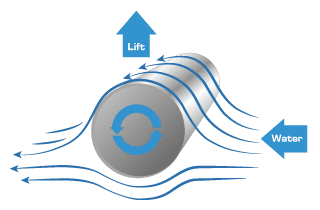 Verzamelen van vaartuiggegevens
Rotorswing berekent een aanbevolen systeemspecificatie op basis van de vaartuiggegevens die in dit formulier worden verstrekt.
Brochures
Hieronder vindt u de digitale versies van onze nieuwste brochures en technische fiches. Klik op de knop om de digitale versie van een bestand te bekijken.