Rotorswing 140 Underway
The RotorSwing Underway stabilizer provides roll damping while cruising starting at 3 knots. This stabilizer is the cost effective solution mainly for displacement vessels that require powerful roll damping while cruising.
The patented RAKE function, which brings the Rotors to a predefined smaller angle towards the aft, can be enabled while cruising at 10-16 knots. This patented RAKE function significantly lowers drag without any significant loss of roll damping!
The RotorSwing Underway is the cost effective answer for displacement yachts up to 35 meters (115 feet) cruising up to 16 knots.
This RotorSwing 140 Underway stabilizer is a multi-functional roll damping system that is extremely quiet and also adaptive while fighting almost any type of motion and ocean. A huge benefit is the patented Adaptive Rake™ with the positioning control function, whether the vessel is AtCruiseSpeed™ or AtFullSpeed™ the system maintains great performance regardless of vessel speed.
Safety first; our roll damping systems automatically retract while going astern or neutral.
100% Electric
High Performance at Low Speed
Retractable (fits on every hull)
No Steering Effect
Magnus Effect principle
Silent Operation
Low Maintenance
Increased Fuel Efficiency
Increased Comfort, Safety & Relaxation
Compact and Easy installation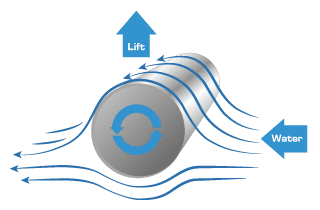 Vessel Data Form
Rotorswing will calculate a recommended system specification based on the vessel data provided in this form.
Brochures
Below you can find the digital versions of our latest brochures and technical data sheets. Click on the button to view the digital version of a file.